When the teams behind Ray and the National Black Theatre met in early 2019, it quickly became clear that there was a deep overlap in fundamental values. This convergence became the foundation for a joint vision for the corner of 125th Street and 5th Avenue in Harlem.
Ray is partnering with the National Black Theatre (NBT) to create a transformative building at 2033 5th Ave, also known as National Black Theatre Way. The project will deliver the flagship Ray Harlem residential rentals and the next iteration of the NBT performance space, as well as dynamic retail.
Together, Ray and NBT are looking to honor tradition while challenging assumptions about real estate and the built environment. Central to the project is the legacy of NBT founder Dr. Barbara Ann Teer, whose methodology of TEER Technology, "The Technology of the Soul," integrates West African mythology, ritual, and symbolism. The project manifests this energy through the medium of built space, even down to the color of the brick: the pink-red hue references the Osun-Osogbo Sacred Grove in Nigeria, honoring the original artisans behind the NBT space.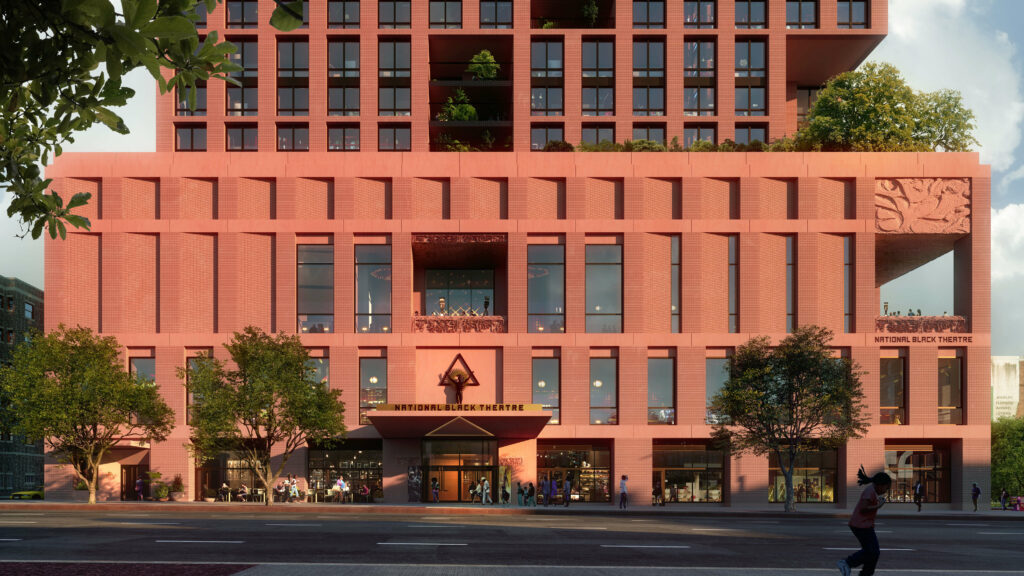 In service of infusing new energy and perspective into the conventional New York City real estate process, Ray carefully selected design partners who could help advance the landscape by thinking outside of the traditional building box. At the helm is visionary architect Frida Escobedo, in collaboration with esteemed New York City-based Handel Architects. Frida has brought her experience with textured materiality and contextual design to the Ray Harlem project, which represents her debut large-scale multi-family project as well as her first project of this magnitude in the United States. Frida's collectivist approach translates into a space that prioritizes collision opportunities in both public and private spaces. Handel Architects complements this with over 25 years of building residential projects in New York City and around the world. Handel's design sensibility coupled with their acumen for efficient execution makes them perfect partners for this transformational project.
One primary way the project exemplifies this approach is through the Living Room at the ground floor corner of 126th and 5th Avenue. This cozy space will be open to the public and serve as a community gathering space. Interior designer Little Wing Lee works to incorporate design gestures that speak to the history of the space, from the river that runs beneath the ground of 125th Street to NBT's narrative. Little Wing brings her integrative approach as a through line in the design of the NBT lobby space as well, considering how the various neighbors within the building will interact with one another.
Ray Harlem is scheduled to open late 2024. While the building is being designed and constructed, Ray will focus on its creative partnership with NBT as well as opportunities for community engagement. More information about how to reserve space will be coming soon — sign up to stay updated.