Ray Philly will be a place where art lives. With six artist studios featured on the ground floor, it will be the residential anchor of the upcoming North American Street creative corridor at the intersection of Fishtown and Olde Kensington in Philadelphia. Neighboring The Clay Studio and Crane Arts, this will be the first Ray project to open its doors to the public and showcase the philosophy of making high design highly accessible.
Throughout the design process, Ray worked with Leong Leong to create a building that would be both contextual and contemporary. Considering how this could be translated through materiality, the team pursued a long process of investigating how to elevate basic bricks. Through many experiments and iterations working with a local brick manufacturer, the team was able to achieve the desired hand-split brick look at scale, resulting in a textured façade unlike any other large-scale residential project to date, reminiscent of the Herzog & de Meuron project Vitra Schaudepot.
The building's industrial identity is a nod to Fishtown's roots: in the first half of the 20th century, the neighborhood was a center of manufacturing and production. Today, the city is leading the American Street Improvement Project to create a more sustainable and pedestrian-friendly experience throughout the area. Community design and collaboration between the Philadelphia Water and Streets Departments have led to a plan that will integrate trees and greenery, public space, and enhanced engineering in service of a more walkable and environmentally friendly neighborhood.
Ray Philly will act as a home for folks who are interested in art, creativity, design, and architecture. In addition to the ground floor artist studios, the building will have 110 residential units and a suite of amenity and community spaces including robust work-from-home and co-working areas, maker studio space, a gym and wellness studio, community kitchen and entertaining space, a lobby living room, and a green roof deck. Ray is working to integrate technology that will allow for tenants to share basic home equipment so that individuals can reduce the cost of outfitting their personal spaces. Ray is also utilizing sustainable materials such as environmentally-friendly linoleum and energy-efficient vinyl windows in the construction of the project.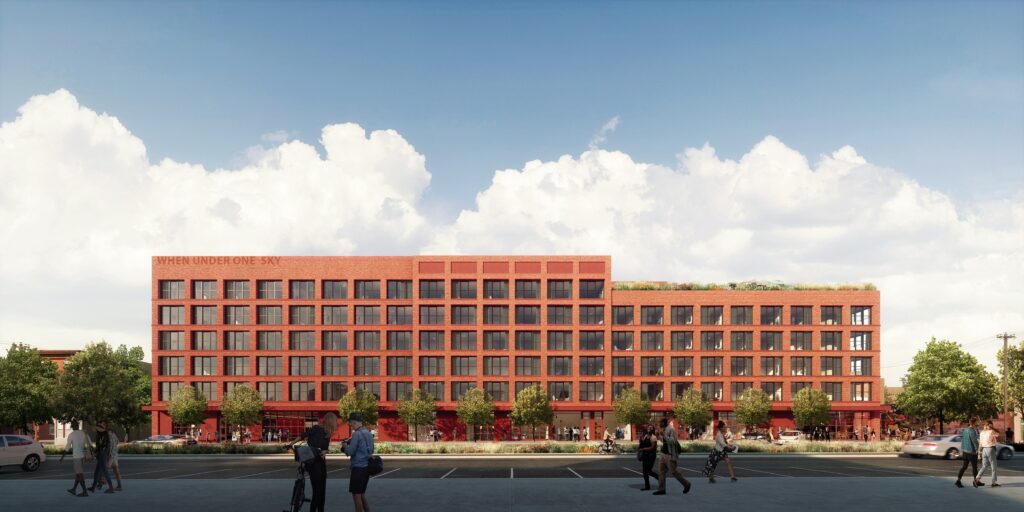 The building features an exterior intervention on the split brick facade by Philadelphia-based artist Michelle Lopez. "WHEN UNDER ONE SKY" explores the themes of unity and possibility through its placement and integration. Lopez was interested in playing with the corner edge as it touches the sky and draws attention to the phenomenon of space above as a portal to potentiality: it invites bigger ideas, more boundless imagination, and limitless creativity. The sky also represents a space that no one owns, that is shared by all. Lopez will maintain a studio space at the Ray Philly building, where she'll be an integral part of the community.
Sign up to stay updated — more information about how to reserve space will be coming later this year.